Find the Perfect Nest for the Next Chapter of Your Life
Are you ready to downsize into low or no maintenance living? We have a plan! Our team of certified senior housing professionals™ has extensive knowledge of the many options you have available. Whether you are looking for a multi-generational home, relocating to another city, purchasing a low maintenance home, or you want to evaluate senior living communities, we're here to help you every step of the way. 
We will guide and support you in any stage of the process to make your home search as seamless as possible.

Free downsizing consultation
We start by meeting you and your loved ones at your home where we will have an open, honest conversation about your needs. We will provide you with ALL of your options, and together we will create a downsizing success plan as a team.

Once we have a clear understanding of what you are looking for in your next home, we will review our strategy and process for helping you navigate your search for your next nest. Whether you are relocating to another city, looking for placement in a senior community, or downsizing to a local, low or no maintenance community, we've got you covered! Our service is different because YOU are different!

Based on your goals, we'll get to work right away to help you find your next nest. We will work for you to help you find the perfect nest for your next chapter!

Floorplan Creation/Move Management/Unpacking
We'll help you manage your move (and your belongings!) to help you settle easier into your new home.

Once you find the place you want to call home, we'll be your trusted advisors along the way, helping ensure you are well represented throughout the process and helping you get to the closing table successfully.

Phone Number
Direct: 443-955-0926
Office: 443-318-8800

Office
8015 Corporate Dr., Ste C,
Baltimore MD 21236
Schedule Your Free Consultation Today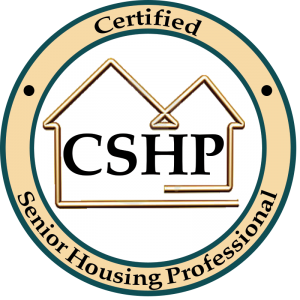 What is a Certified Senior Housing Professional™?
Next Chapter Nest, Senior Solutions has earned the rigorous Certified Senior Housing Professionals™ (CSHP™) certification through the Seniors Real Estate Institute, making us the only Realtor® in the area with this qualification. In order to obtain the CSHP™ certification, we:
Researched and studied local housing options
Conducted senior-led focus groups to better understand the senior homeowner's point of view
Toured and documented the region's leading senior living communities to help our clients navigate the many options available to them today
Created valuable housing resources for clients based on housing options
Completed and passed the CSHP™ exam and application process
Completed the Senior Real Estate Institute's Review Board interview